Join us for the second of a series of new virtual AURORA 'In conversation with...' style events, where we will hear from various expert speakers across AURORA institutions, with their perspectives about R&I issues and challenges that are currently topical and relevant.
Sara Matt, Head of the Transfer Office at the University of Innsbruck, and Ólöf Vigdís Ragnarsdóttir, Head of the Innovation Department at the University of Iceland will share their experience on how universities holdings are set up at the University of Innsbruck/Austria, and the University of Iceland, what their goals are and whether they achieved them, but also which problems the universities face(d) while setting up their holdings.
The Aurora European University Alliance has the exchange of knowledge, experiences and cooperation as its primary purpose. This one hour, informal 'In conversation with' style session, held as hybrid webinar during the Erasmus+ BIP Aurora Staff Week in Innsbruck, is aimed at Aurora colleagues and its networks interested in the exchange on current topics of innovation promotion and technology transfer. It will include a Q&A.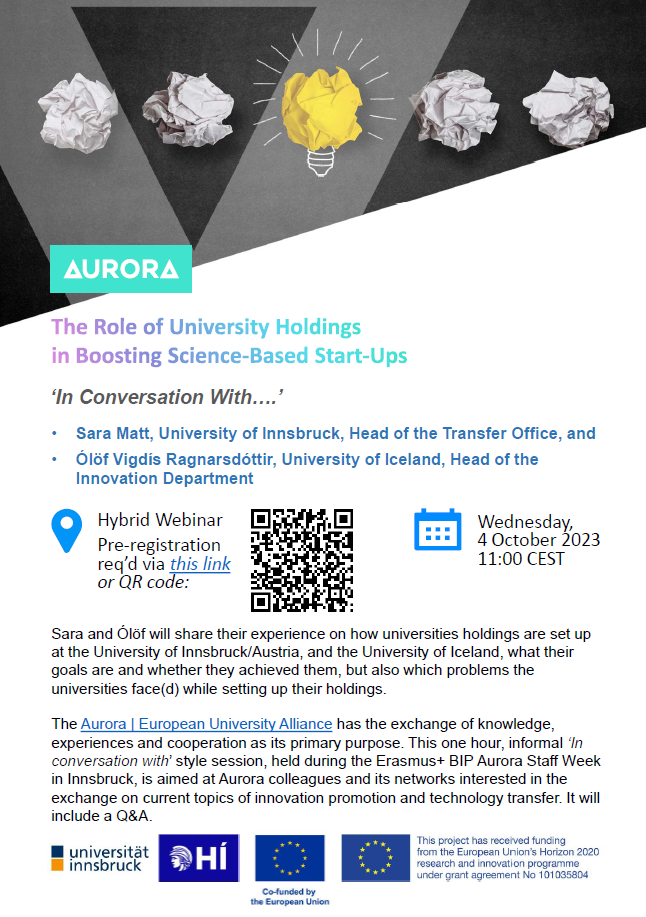 Date: 04.10.2023
Time: 11:00 CEST